Detroit
Did you know there are still active projects in MI? Indeed, Fifth Estate is a currently active project that still puts out three issues of an anarchistish content periodical every year. While I was in Detroit this project loomed large as I was staying with its managing editor. We went to visit its memorialization. I'm not sure I'd be comfortable with one of my projects being locked away in a museum but likely don't have anything to worry about. We discussed devotion to singular projects. We went to Heidelburg and even got to spend some time with Tyree. We ate pizza delivered by the hands of our hosts and had a lovely breakfast where we followed up on all the threads and tied them in a bow.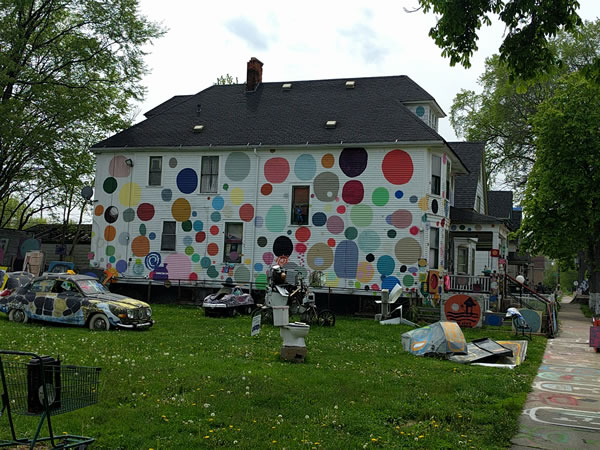 Ontario
I'm tempted to oversimplify when I write about Ontario but it wouldn't be fair. I visited three different towns there and had three very different experiences. Hamilton is a successful anarchist scene there. They have a strong active infoshop. They also have something that looks and feels like the kind of community most towns aspire to (constituent ingredients include consistency, some old timers, and some wingnuts that add color). I was there to visit friends and to help launch the new LBC title Blessed is the Flame. The book launch was quite intense with family members, out of town radicals, and a multi-media presentation that was quite impressive.
Toronto was a challenge. Any big town trip is stressful because having a motorcycle out on the street with most of my luggage is stressful. I just had my camera stolen out of my tank bag (sorry J) which reminded me of what I already know, most of the time things are fine, and then they aren't. The event was hosted at a campus restaurant by a consistent local anarchist reading group.
Kingston was really nice. The event wasn't so interesting but the space it was held in (motorcycle shop) was adorable and appropriate given the nature of my trip. I came back a couple of thousand miles later to have my tires changed. The scene there is small and older but frankly, this was much appreciated as my point of contact seemed totally dialed in on most of the topics I like to talk about.
East Coast
Rochester was totally forgettable except for the sincerity and generosity of my host. I could use this opportunity to make fun of the Black Rose Federation members there but frankly the less ink any of us spill over them the faster they may disappear from the planet. Insert clever quote about anarchists needing a federation like a fish needs a bicycle.
Woodstock was lovely as it involved some conversations about topics I need to research later. Added to my reading list: Artaud, On the art of the nō drama: the major treatises of Zeami, The Empty Space, and The Theater & it's Double.
Providence RI was a pleasant surprise. My host did not have much experience and the event wasn't that well attended (no surprise given how well I/LBC plays in the East Coast generally) but the people who did attend were interesting, interested, and found each other! I can count on one hand how many times my mere existence was a catalyst to new interactions. I hope they go well.
Boston has one of the most stable anarchist bookstores in North America, the Lucy Parsons Center. The history doesn't mention why so I guess I'll leave it unsaid but my time there was notable for getting to watch Boston street culture close up, an engaged conversation about The Blast and the question of anarchist aging. I did attend a birthday party of a stranger while I was there that was strange. The people were very nice and friendly to me but the crowd was either of the "family don't care about stranger" variety, the "I'm just here to drink beer" or the "I'm a member of Black Rose Federation and have no curiosity about you whatsoever". I do find curiosity (and the lack thereof) to be one of the hallmarks of red anarchism.
Central Vermont is lovely and I can only imagine the leaf peeping there. 😉
Next up… Quebec & the trip home