Portland
One expects the worst from Portland. From "we will not be silenced," to Portlandia, to the fact that Portland doesn't even seem to be trying any more I had low expectations. The fact that the only person I knew from the Annares collective wasn't there and my fear started to rise. I was totally wrong.
The crowd that Annares reached was mostly young, very interested, and my presentation went well (outside of my own repetition and over reliance on certain turns of phrase). I doubt this will rise to the level of being meaningful more broadly for the Portland scene generally but I was greeted by 30-40 people who seemed absolutely interested in ideas of fighting leftist framing, attacking conceptual regimes, and not being complacent about anti-civ ideas.
The question and answer section was particularly delightful with a nice combination of easy (or newbie) and hard (experienced) questions. A couple of friends (and others) stepped in to answer better than I could and I leave the experience feeling quite satisfied and even hopeful that future collaborations may exist in Portland. Time will tell.
Motorycle
And the plus side:… I can pick up my motorcycle on my own (it is over 700 lbs with gear).
On the minus side: I had to.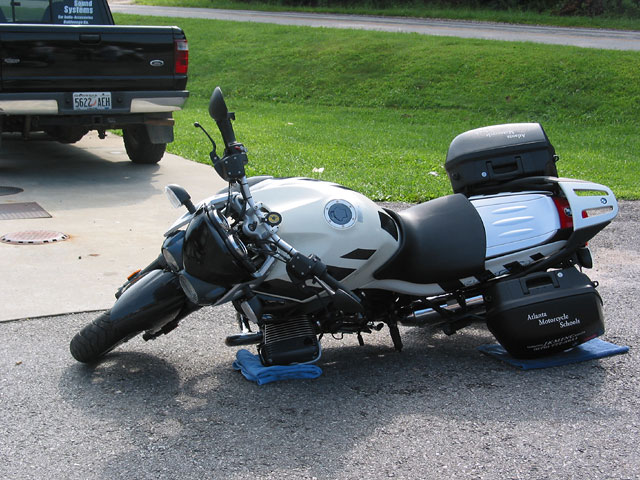 A combination of being tired and on the down side of an incline means that I dropped the bike for the second time. This time it was crawling to the pay office for the Denman ferry but hopefully I now have the tools to not make this mistake again. The Vancouver Island ride was nice but a little more intense that I was ready for. As you likely know motorcycle culture is pretty clannish. I met a dude on a GS1200 on the ferry who adopted me. This meant keeping up with him on unfamiliar roads. Not my favorite. But once he turned off and I figured the right road I had a lovely ride that only slowed down as the bugs began a kamikaze cascade into my face.
I have two more ferry rides and then I'm on to solid ground. I am fearing and excited about the 49th parallel ride I'll be doing north of the line and then the ride through Glacier Highway to the Sky and down to Yellowstone. After that the rides will be simple.
Seattle
The Seattle event was an introduction to this new project that hasn't been entirely finalized yet… and so in this way I'm quite excited because some of the needs for the project came cascading out of me during the presentation. The need is for a real world (not internet) networking project that can serve as an introduction to anarchist ideas (rather than sectarian punch up) and an excuse to meet f2f. It's called The Blast and you can learn more from the broken website (that I'll probably not fix until June) http://theblast.info.
Left Bank is an interesting venue. Totally not made for the purpose of meetings but the crowd was really useful in getting to think about what to talk to the rest of the blast people about when I get back. I'll be presenting about three more times on the new paper.